Matera, a jewel in the Basilicata southern region of Italy, may be the third-longest continuously inhabited human settlement in the world. Natural caves in the tufa limestone, exposed as the Gravina cut its gorge, attracted the first inhabitants perhaps 7000 years ago. More elaborate structures were built atop them. Today, looking across the gorge to Matera's huddled sassi (cave dwellings) it seems you've been transported back to the ancient Holy Land. Indeed, the 'Città Sotterranea' (Underground City) has often been used for biblical scenes in films and TV.
Old Matera is split into two sections – the Sasso Barisano and the Sasso Caveoso – separated by a ridge upon which sits Matera's gracious duomo (cathedral). The sassi, many little more than one-room caves, once contained such appalling poverty and unthinkable living conditions that in the 1950s Matera was denounced as the 'Shame of Italy', and the sassi-dwellers were moved on. Only in later decades has the value of this extraordinarily built environment been recognised.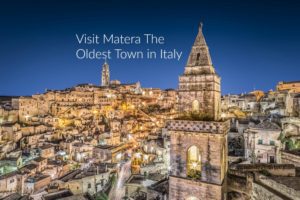 Italy à la CARte, the only way to experience Matera before this marvelous hidden gem becomes another Italian spot full of tourists!
Want to know more about a trip to Matera? Click here. 
Matera